---
Made in the Shade of St. Louis is proud to sell Color Lux window shades and blinds from Comfortex – one of the premier manufacturers in the industry.
With more than 800 colors, 3,500 patterns, and dozens of premium fabrics, you're assured of always finding the perfect fit with Color Lux.
All Color Lux Window Treatments are designed, manufactured, and assembled in the USA. Call us at (314) 400-8887 to learn more!
---
Choose from These Beautiful Color Lux Products!
Color Lux offers the window treatment industry's most extensive color harmonizing platform. Choose the product that best fits your style and decor, or pair multiple products such as a cellular shade and drapery to create a coordinated ensemble.
Cellular Shades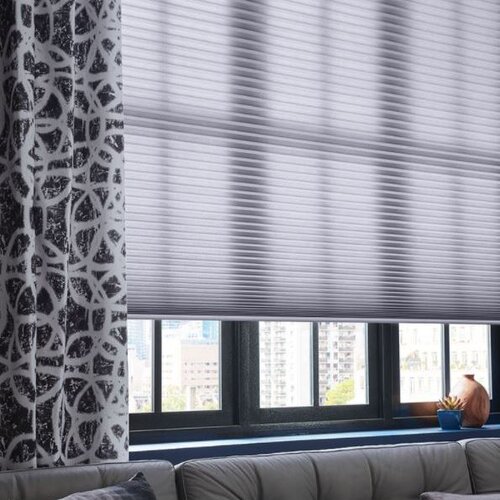 The classic design of cellular shades, combined with their outstanding insulating capabilities, makes them ideal for any room in the home – from family room to bedroom.
Available features and benefits include:
Luxurious Fabrics – Each of the four Color Lux fabrics – Linen Weave, Verona Textures, Boutique, and Aspen – offers their own unique blend of beauty and sophistication.
Energy Savings – According to energy.gov, cellular shades can reduce heat loss through windows by 40% or more. And in warmer seasons, they can reduce unwanted solar heat through windows by up to 80%!
Fabric Wrapped Rails and End Caps – At Color Lux, we dedicate as much attention to our hardware as we do our shades. Fabric wrapped rails and end caps complete the look, making for a seamless appearance.
Roller Shades
Color Lux Roller Shades feature the finest in decorative fabrics and solar screens, ranging from beautiful natural textures and solids to modern designs and colors.
Available features and benefits include:
Friction Fit Mounting System – Install Color Lux Roller Shades in seconds – no tools required! Perfect for older homes where surfaces such as brick, tile, or metal make it problematic to drill.
FeatherTouch – The FeatherTouch Cordless System just needs a simple push of your finger, as light as a feather, to raise your shades. To lower, simply pull down the bottom rail to your desired height.
Decorative Borders – With Color Lux Roller Shades, you have the option of adding a decorative border to further integrate other elements of your room design (see image on right).
Sheer Shadings
Soften the glare of the sun with two layers of stylish sheer fabric or tilt the vanes as you would a blind for added privacy and light control.
Available features and benefits include:
3-Inch Vane Fabrics – Choose this larger vane option to "up the elegance factor" on your shades. The 3-inch vane size is an especially good choice for larger windows.
"Tight Closure" Bottom Rail – This innovative design features a uniquely contoured bottom rail that blocks 38% more unwanted light than a traditional bottom rail.
Omni-View – The Omni-View hardware system does what no other sheer hardware can do – it allows you to raise the fabric up to 24″ while the vanes are still open!
Soft Roman Shades
Soft Roman Shades add warmth and sophistication to any décor. Whether you are interested in creating a classic or contemporary look, there's a style of roman shade to fit your room.
Available features and benefits include:
Four Different Styles – With choices of relaxed (see image above, flat, classic, and hobbled roman shades, there are options for every style and taste.
Light Filtering and Room Darkening Fabrics – Color Lux Roman Shades work equally well in rooms where you welcome natural light as well as those where you prefer a darker environment.
Roman Valance Option – Get the look of a relaxed roman shade in a stationary valance! Coordinate with an underlying cellular or sheer shade to really make a statement!
Insulating Blinds
Odysee Insulating Cellular Blinds are unique to Color Lux. There's simply no other product on the market that combines the versatility of a blind with the energy efficient properties of a cellular shade.
Available features and benefits include:
When the vanes or cells are closed, Odysee looks and acts like a blind (see image above).

When the vanes are expanded, the gaps between the cells are effectively closed, giving it the appearance – and the insulating properties – of a shade (similar to the cellular shade image at the top of this page).

Odysee has a textured fabric that provides an upscale look, and like most Color Lux products, it's available in more than 800 colors.
What more could you ask for?!
Draperies, Cornices & Valances
The pairing of draperies, cornices, and valances with window shades is among the hottest trends in interior design today. And coordinating these different types of window treatments has never been easier thanks to Color Lux!
Color Lux Pattern Library: Our extensive library of 800+ colors and hundreds of patterns means you're assured of finding something to elegantly pair with your room decor.
Premium Fabrics: When the options are the timeless and refined finish of linen, the smooth silk-like finish of Sateen Luster, or the supple hand of Sateen Matte, you can't make a bad choice!
Drapery Panels and Side Panels: Choose between drapery panels which can be drawn closed or side panels which hang stationary on one or both sides of the window.